By Akash Upadhyay in New Delhi
Involving citizens in the fight against cyber crime, the Ministry of Home Affairs (MHA) is building a network of cybercrime volunteers. Government through its website www.cybercrime.gov.in/ aims to raise a group of "cybercrime volunteers" to flag "unlawful content" on the Internet.
Indian Cyber Crime Coordination Centre (I4C) has been established under the Ministry of Home affairs (MHA) to act as a nodal point at the National level in the fight against cybercrime. One of the important objectives of I4C is to create ecosystem that brings together academia, industry, public and government in prevention, detection, investigation and prosecution of cybercrimes.
The Cyber Crime Volunteer Program is one such initiative by the government to bring together citizens with a passion to serve the nation on a single platform and contribute in the fight against cybercrime in the country.
Good Samaritans or individuals are welcome to register as Cyber Crime Volunteers in the role of Unlawful Content Flaggers for facilitating law enforcement agencies in identifying, reporting and removal of illegal / unlawful online content.
Any Indian citizen can become a part of this initiative by registering in any of the three categories – Cyber Volunteer Unlawful Content Flagger,  Cyber Awareness Promoter and Cyber Expert.
 Here is a step by step process of how to register on the portal
To register on National Cybercrime Reporting Portal as Cyber Volunteer. First login to the website cybercrime.gov.in.
To register on Portal, create 'Login Id'. Mention name of State/UT of your residence and mobile number which are mandatory. Enter OTP received on your mobile on 'Login Id' page and 'submit'.
Provide the required information in "Registration Step 1" on page "USER VOLUNTEER PROFILE DETAILS". Further, Upload resume, ID Proof, Address Proof and Passport size photograph.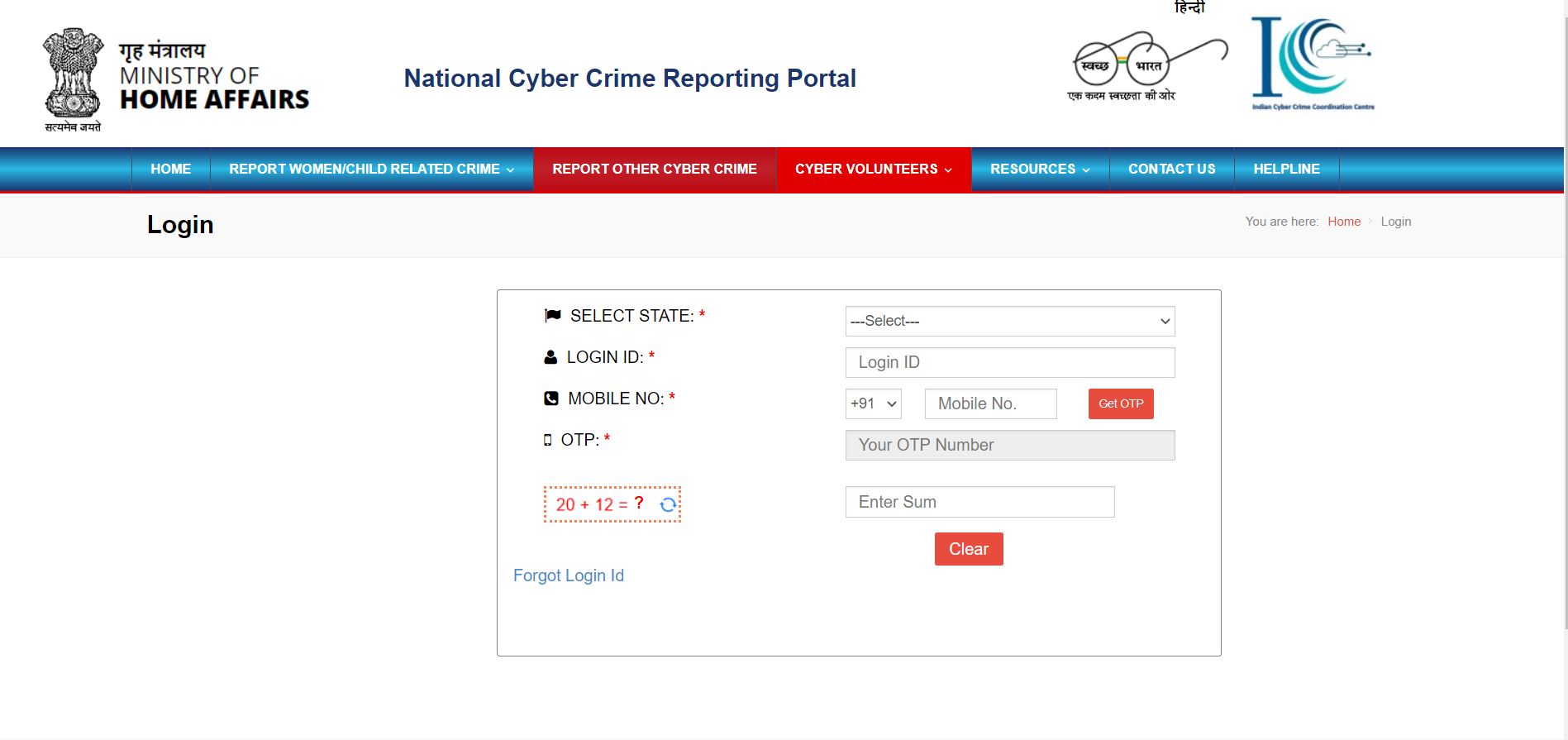 It is at this step you have to Select Type of Volunteership:-
–  Cyber Volunteer Unlawful Content Flagger
– Cyber Awareness Promoter
– Cyber Expert.
In 'Registration Step 2', mention the reason to be a Cyber Volunteer, including other details, skillset etc.
'Save and continue' to come to "Preview and Final Submit".
In "Preview and Final Submit", recheck the details again before clicking "Final Submit".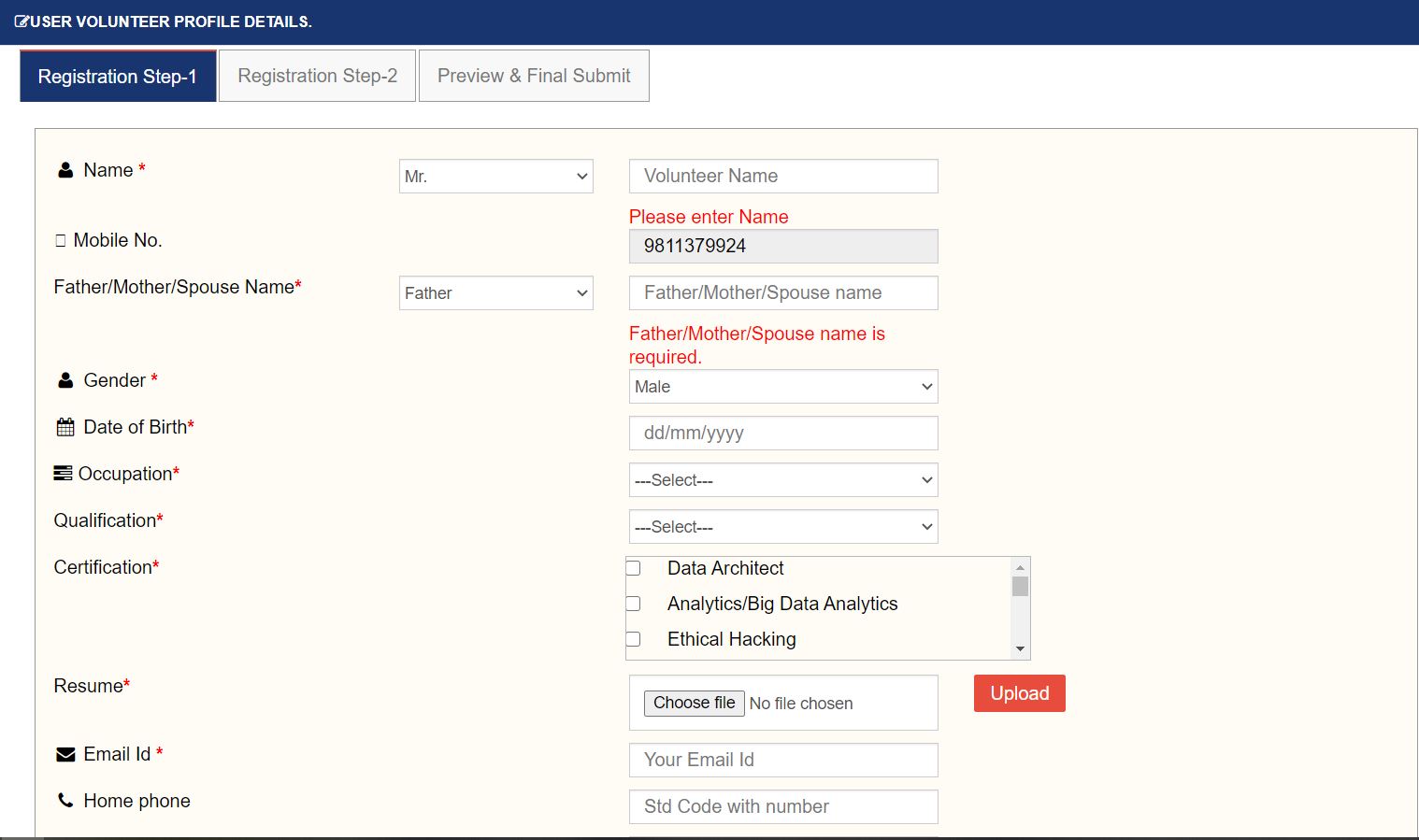 For registration as 'Cyber Awareness Promoter or Cyber Expert', prior verification (KYC) will be carried out.
To check the status of registration, go to "View Profile"
Applicable ID and Address proof required to be uploaded.
ID proof i.e. Aadhar Card/Indian Passport/Voter ID card/PAN Card/Driving license
Residence proof i.e. Indian Passport/Voter ID card/ Electricity Bill (not older than 3 months)/Domicile Certificate with photo of the addressee.
The portal was launched on August 30, 2019 to help people report all kinds of cybercrimes on a centralised platform. An earlier version of the portal launched in September 2018 on the directions of the Supreme Court, catered only to complaints of child pornography, sexual harassment crimes against women and children.