By Akash Upadhyay
Cases of cybercrimes are rising every day, the magnitude of digital crimes can be accessed by the fact that every 5th person in the country is falling into scams related to cybercrime.
From a software engineer to an uneducated farmer, every passing day, hundreds of people are there who get swindled. Fraudsters are using new modus operandi and techniques to fool their targets. It takes only a fraction of seconds for these cybercriminals to steal your hard-earned money.
But the problem aggravates when you have made repeated visit to lodge a complaint to the nearest police stations. At times local police refrain from lodging the complaint stating it as a case of cyber-crime. So where do you go and how to your register cyber crime complaint with the police?
Don't worry, we will help you with easy ways so that you can get your cybercrime complaint registered online without much hassle.
This is how you can lodge an online complaint about cybercrimes
God forbid, but if you are a victim of such fraud. The very first step is to open the website – https://cybercrime.gov.in/
Step 1 – As you open the website, you will see the following prompt on your screen. You can notice, next to the home button tab, there are two other options – Report Women/Child-Related Crime and Report Other Cyber Crime.
Step 2- If a woman or a child is a victim of cybercrime, then you can click this button. Upon clicking, you will find an option of Report anonymously and report & track. If you want to hide your identity then the anonymous option can be chosen else report and track button should be pressed.
Step 3: In the next window user have to press – File a complaint and I Accept button to move forward. Read the conditions and accept them. It is here the portal also tells — Please contact local police in case of an emergency or for reporting crimes other than cybercrimes. The national police helpline number is 100. The national women helpline number is 181.
Step 4: Here you create a user id and register your mobile number on which you will receive OTP and fill in your name and state. After successfully logging in to the page, you can easily choose your respective area and register a complaint. Fill in the relevant details about the offence.
Follow similar steps to file complaint under the "report other cybercrimes" option. Select the appropriate category and sub-category.
WATCH: UP Cyber Crime SP Prof Triveni Singh Explain How To Register Online Cybercrime FIR
Tracking the complaint
Once you have registered the complaint on the website, you will receive a unique number for your reference. Further communication regarding the investigations will be done via unique number generated. The number can also be used to track the status of the complaint.
Registering complaint via an email
You can also send a mail to [email protected] , a hotline created by the Ministry of Women and Child development to report online bullying and abuse.
There is also a facility for getting the investigation done with getting your identity disclosed. There are Cyber Nodal Officers designated in almost every corner of the country.
A complaint can be registered by emailing to security officers on their respective email id. Full List here: https://cybercrime.gov.in/Webform/Crime_NodalGrivanceList.aspx
A PDF file with the list of email id and contact number of the nodal officers is available in the Contact Us section on cybercrime.gov.in website.
Helpline Number
Ministry of Home Affairs has introduced a dedicated toll-free helpline number — 155269.
The number is reachable on a working day from 9:00 a.m to 6:00 p.m.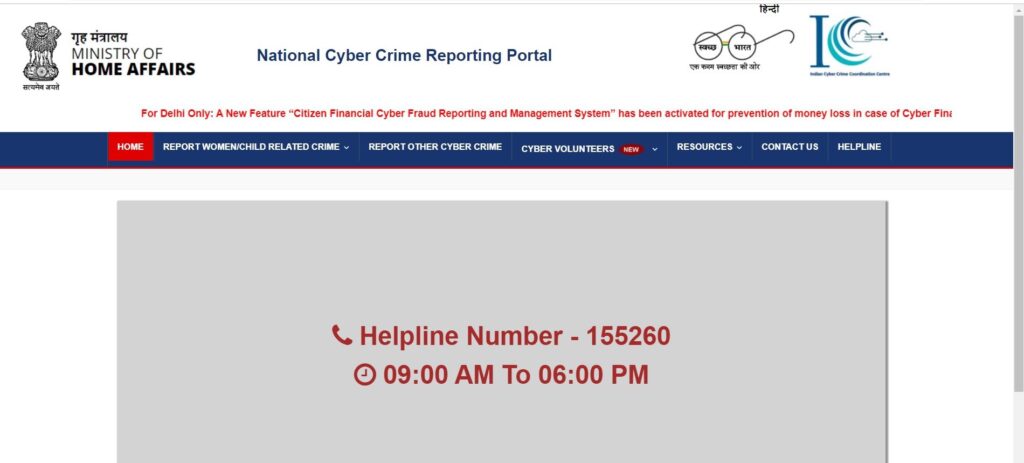 UP COP App for registering a complaint In Uttar Pradesh
People residing in UP can use the UP COP mobile application to register their complaint online. For this, you have to download the application on your mobile and login into it using your mobile number.
After logging in, click on FIR and then on Register e-FIR. Upon clicking, you have to enter the name and other details asked in the application to register a complaint.
Dial 112 and 1090 helpline in UP
If you are residing in UP, and you are not able to get any sort of help, then you can call on these two numbers -112 and 1090. The emergency number 112 can be dialled to register a complaint and track it.
Similarly, for cases related to Women or Children, the helpline number 1090 can also be used. Both the numbers are toll-free. Complainants details can be kept anonymous in this helpline and all the executive who takes the call are women to understand women related issues better.
Other important helpline numbers include 181 and 1076. Chief Minister helpline 1076 establishes a direct medium between the people and the CM's Office. After registration of a complaint, its proper follow-up is done within the 3-4 days to make sure that it is redressed.
Help from Twitter handle
In case of any cybercrime, the complaint can be lodged by tweeting to UP police Twitter handle '@upPolice' and UP 112 Twitter handle '@call112'.
The action on the complaints is addressed here also.
The Government of India has launched a Twitter handle by the name @cyber Dost for getting tips related to awareness about cybercrime and frauds.
Jansunwai Samadhan:
This online platform – http://jansunwai.up.nic.in/ is an integrated system for grievance redressal in Uttar Pradesh. The aim is to achieve the goal of good governance using the latest technology involving all stakeholders. The complaint related to law enforcement, security or other administrative issues can be reported here.
CHILDLINE:
For a child in distress, one can dial 1098 a 24X7 helpline number which come for rescue for children in need of aid and assistance. CHILDLINE India Foundation (CIF) is the nodal agency of the Union Ministry of Women and Child Development acting as the parent organisation for setting up, managing and monitoring the CHILDLINE 1098 service all over the country.